Spark
noun 1. A trace of a specified quality or intense feeling.
Synonyms: glimmer, whisper, touch.
That's how it begins. Freedom, that is. A little spark lights from within, and a whisper from your soul says, "Do this." And suddenly, courage becomes more powerful than fear and you decide at that moment to take the vision in your heart and bring it to life.

But how?

After all, a tangible expression of your soul is a pretty big deal. And that's where the SPARK VIP Intensive comes in.

In four weeks you will have a brand identity. A solid understanding of your unique value, your sweet spot, your driving message, what you do, who you do it for and why it's extraordinary.
As a former magazine editor and art major, I am a believer in the powerful blend of words and imagery. The words and images that you choose to represent your business will produce feelings. As a business owner with messages to share and brilliance to broadcast, you want to be sure that those feelings you are evoking in your audience are positive, warm and REAL.
How do you get real?
It's a cocktail blend of spirit and strategy. Together we will get to the core of your non-negotiable values and feelings. We'll tap into your unique business and brand DNA- the Differentiating (and Divine) Natural Attributes that set you apart in a sea of sameness. Because they can copy your tactics, but they cannot copy your truth.
Then, we take the deep revelation and build your body of work. Because that's where the magic happens.
You will begin by completing the Soulful Brand Discovery Map exercises. This is the playbook that will connect you to your core desires, what moves you and the legacy you want to create.
Then, I will conduct an entire Brand Audit to find any conversion gaps or misalignment.
We will meet to review your audit.
From there, I will create for you two visual identities: color swatches and mood boards of carefully curated images meant to capture the energy of your brand.
Next is the copy stream. You will receive a 3-10 page collection of copy that illustrates my understanding of your brand values, audience and messaging. The copy stream includes free flow language for names, taglines, site copy, mission statements, manifestos and more.
You will walk away at the end of four weeks with a solid brand direction, newfound confidence and a blueprint of action steps for you to take your business to the next level. You will keep your brand mood boards, your copy stream and all ideas formed during the Spark Intensive.
Emerging entrepreneurs.
Entrepreneurs who have fallen out of alignment and are ready to reconnect to and rebirth their vision.
Access to the Soulful Brand Discovery Map workbook.
Access to the 6-month Miracle Project Modules.
2 work sessions, 60 minutes each.
Two visual brand identities.
One copy stream. (A collection of copy - names, taglines, site copy, mission statements, to be used at their discretion for their site, marketing etc.)
A 12 month ascension plan.
Mini mood board. Similar to this one: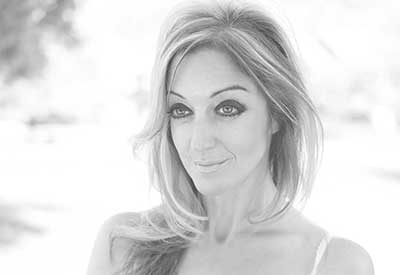 I'm Gina Hussar and I'm here to help creative, visionary entrepreneurs build (and ROCK!) their passion fueled businesses.
I'm a published author, internationally published magazine writer, certified Law of Attraction and Business Coach, total book nerd, mom of three who geeks out finding the EXACT words that perfectly capture your brand and set you center stage with a big old neon spotlight.
It drives me CRAZY when I see people spending thousands of dollars and hours of time on marketing before they are solid on what to even market! And then, because they haven't yet tapped into the elements of clarity and conviction that come from a soul-built brand, they start sending out copy-cat messages, (yawn), copy-cat programs (kinda illegal) and they burn out before year two.
Sustainable success depends on a unique blend of spirit and strategy. You've got to build a business that is undeniably YOU.
Whether you need a killer sales funnel or a complete brand message overhaul, I got you.
For more information, to ask a question or to set up an appointment, complete the form below.