It's inspired bad movies, good movies, epic novels and more than a few mid-life crisis jaunts around the world.
 It was the focus of my own misery for more than a decade.
It can fool even the smartest people into thinking that their life is less meaningful, less whole than it ought to be.
What am I talking about? PURPOSE.
What is my purpose? What am I supposed to do with my life?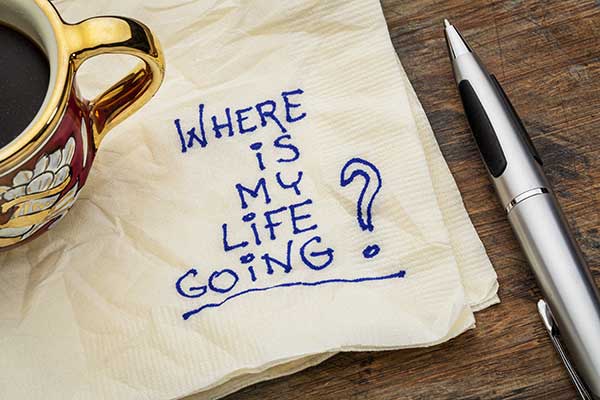 Those are questions that downright HAUNT a good portion of the population. After all, thanks to Disney and other well-intended fairy tales we are programmed to believe that we have one destiny, one purpose on this earth and that if we don't find it, well hell, we missed the boat and any prayer of happiness.
To that I say….. bullshit!
Don't get me wrong. I fell for that myself for a very long time. And I was miserable because I tried everything under the sun and nothing clicked. I just couldn't figure it out and I felt like a failure. And when you're in that space, doesn't it seem like you have a heightened awareness of how sure everyone ELSE seems about it all? (Curse you Facebook newsfeed!)
Then it hit me. What was making me miserable wasn't the lack of a single purpose, but the endless journey, the endless questioning.
It was never a lack of answers that made me unhappy it was my endless quest for them. Always needing to see the future rather than leaning into the present. If I had only known that moving gracefully through moment by present moment WAS the answer to the universal question.
Ask any parent who's child has just been diagnosed with an illness and they will tell you that their life's purpose at that moment is to love and care for their child with unwavering commitment and fierce determination.
Ask the Olympic athlete and their life purpose is to reach their maximum potential for physical fitness and the highest level of achievement. But after that they better be able to change their life purpose or they are faced with the reality that they are washed up at 15! (This is what happens when former child stars, now addicts, never realized that their purpose could evolve!)
Let me make life easier for you and abolish the question once and for all. Ask me what your purpose is and I will tell you that you don't have ONE.
No one has just ONE purpose. Life is fluid. Purpose must be fluid. Your purpose will expand and change shape in direct proportion to your life expanding and changing shape.
And thank God for that!
Stop asking "what is my purpose" and ask instead "what is my purpose TODAY? What is my purpose at this moment?"
Your purpose might be to serve your clients fully today. And tomorrow your purpose might be to take care of the child who is home sick from school. And the day after your purpose might be to finally finish that chapter in your book.
Your purpose, today, every day, each moment is simply this:
PRESENCE.
Your purpose is to stay present to what each moments asks of you.
That's it. And as you stay present, the steps are revealed, the questions are answered and you find, magically, that you are LIVING your destiny.
Destiny and purpose are not a place you have to pilgrimage to get to. They are right here right now. They are the JOURNEY. They are not something you find, but something you recognize in each moment and choose to respond to.
Now doesn't that take the pressure off? So please stop buying programs trying to figure out what your purpose is.
My hope for you is that your life is so full and so dynamic that you will have had a thousand purposes by the end of it. That's magic. That's flow. THAT is living!