Happy new year. No really. Happy. Freaking. New Year.
Why am I so adamantly in love with 2017? Because 2016 tested my spiritual resolve more than anything EVER has. It was, according to astrologers, a "transition year" not just for me, but for MANY people. The collective consciousness was CRAZY this year. I am sure you felt it. (A-hem, Trump induced nationwide Election insanity).
Uncertainty, massive fear, tests of strength, a call to arms for warrior courage.
Now that's interesting, isn't it? Fear and uncertainty, acting as a bridge to extraordinary change and courage. This year nearly did me in, and yet, it also brought me back to life.
So to that I say, F you 2016. F you, and THANK YOU. Without your bullying, without your ambush attacks on my soul, I might still be pretending, complying and squandering time on a life that was not in line with my deepest truths. So thanks 2016. You're a pal. I consider you the brutally honest friend who's not afraid to say, "Yes, you look fat in those jeans."
Here are a few things I learned (not without blood, sweat and tears) and the things I plan to carry with me into this bright, sparkly, merciful new year. Feel free to steal.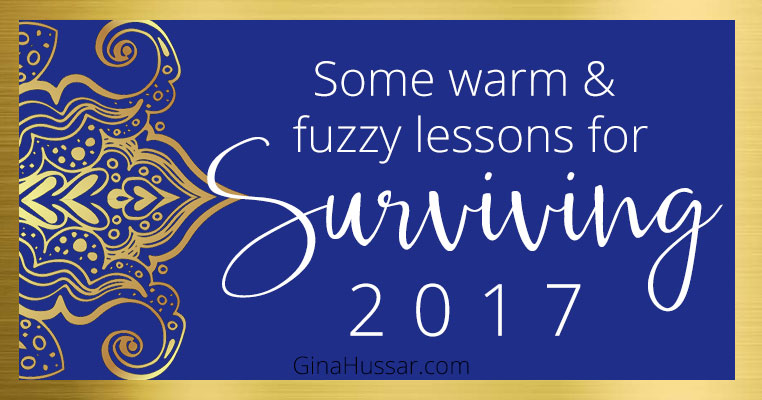 You can't outrun your truth. You may stay a few laps ahead, but eventually it catches up. And if you don't listen to it whispering, the whisper becomes a scream. And if you still don't listen, the universe will implode your life in such a huge way that you cannot ignore it anymore. And spoiler alert— that's not fun. Ask yourself, "Am I being patient or suffering in silence? Am I giving this situation time, or am I hiding behind a wall of fear, clinging fiercely to comfortable discontent?" The truth isn't always pretty, but it's always worth it.
Forgiveness is not a betrayal of your pride. Peace is a choice. Sure, you have a RIGHT to be raging. Angry. Hurt. You also have a right to accept change, to throw love and compassion around, to choose the serenity of peace over the heaviness of resentment, to see everyone in your life as a spiritual teacher and be grateful for their presence, their lessons and yes, even their pain. Because you grew. You learned. It's just that anger is really dense, so until you push it aside you won't see the miracle behind it. And the miracle is breathtaking. Your only job is to assume that everything happening to you is for your highest good. So accept it. Trust. Choose peace. Move on.
What's best for you is best for the people you love. Period. Martyrdom makes you look older. So don't do it. You help no one by abandoning yourself. In fact, you are actually f**king up EVERYONE when you do that. Because the people who look up to you (especially important if you have kids) will follow your lead. And if they see you abandoning yourself, settling for less, tolerating emptiness, they will adopt that as normal and do the same. Want that on your conscience? Me neither. Be your own advocate. Happiness is YOUR birth right too. At some point, you should learn that it's not selfish to honor the callings of your own soul, regardless of who you feel obligated to. I heard Joel Osteen speak this year. He said, (CLEARLY speaking to me personally 😉 "You might be saying, 'what if I hurt people with my choice?' and to that I say, 'what if you miss your destiny?'"
Grace is when forgiveness, compassion and acceptance intersect. You can push against or flow with. Guess which one keeps you healthier? Now this is tricky, because grace and patience are very often mistaken by the faithless for weakness. But you and I know better. You and I know that grace is a high calling, reserved for the strong of heart. And it doesn't hurt your karma either.
The more you live by your truth, the more you will find that people you know and love have trouble relating to you. And that's ok. Because you're no longer living to please and conform. They are comfortable living that way and that works for them. It just won't work for you anymore. It's no biggie. Some people like sushi, some don't. Don't judge them for their unwillingness to see differently, and hopefully, they won't judge you for an inability to be someone you're not.
Do something that scares you at least twice a year. Courage is an element of freedom. When you stretch yourself beyond what's been true to this point in your life, things you didn't know you had will be permanently unlocked. This year, I spoke on stage to 400 people. I also made a decision to permanently change my life in a HUGE way. Both of those things scared the shit out of me. And both raised me to a higher level of faith, empowerment and bad-assness.
Darkness is nothing more than incubation. Sue Monk Kidd wrote a book called When the Heart Waits which became a bible for me this year. In it, she suggests that we not dramatize the dark night of the soul as something awful and gut wrenching, but rather take a lesson from nature. Caterpillars go into a dark cocoon to be reborn as butterflies. Babies stay in a dark womb until Divine timing tells them it's time come forth as life-changing miracles. Why then, do we assume OUR dark seasons are anything BUT a blessed and natural incubation period? You aren't stuck in darkness. You're just incubating. Divine intervention is sometimes as quiet as a whisper and as slow as molasses, but it's there. So just wait, with grace, until you are given the unmistakable green light that it's time to be born again, stronger, more beautiful and in gorgeous technicolor.
You can be compassionate without being responsible. This is tough for us do-gooders. Even tougher for us empaths. After all, we not only witness people's pain, we FEEL it right along with them. So it's EXTRA suck-ish when we are a PART of people's pain because then we get to enjoy that cocktail blend of sadness AND guilt. Lucky us. But here's what I know. You can feel a huge amount of compassion for someone else's pain, for their journey, without accepting responsibility for it. You are only responsible for yourself, your choices. And they are only responsible for theirs. You cannot MAKE someone happy. You cannot MAKE someone change. You can only see them for who they are. A Divine being, just like you, doing the best they can with what they know. But there must be a line in the sand.  There must be a point where you can say, "I SEE your pain, and I bless your pain, but I cannot CARRY your pain as my own." Here's where God gets good. When you finally stop carrying someone's pain, guess what they have to do? They have to get stronger, build their muscles and carry it themselves. So when you hand it back to them, they have to finally SEE it and in many cases they will finally say to themselves, "Ohhhh, so THIS is what it looks like. Yeah, no thanks." They will then, hopefully, make a choice to change because THEY don't want to carry that shit either.
Purpose is not one central focus that only super lucky people find. Purpose evolves as YOU evolve. Today, your purpose might be to care for a friend in need. Tomorrow your purpose might be to finally finish the damn book. Your purpose is not something you find after a long and treacherous journey, it's something you choose moment to moment, every day, to give your whole heart to.
Lead with love. Love the pain. Love the spirit assaulters. Love the tears. Love the possibilities. Love the painful growth. (It's unlocking your destiny) Love the unanswered prayers. (They ARE being answered, you just don't like how it looks yet.) Love it all. Leading with love is the fastest path to peace, to new beginnings and to miracles.
And life is too damn short to settle for less than soul-shaking miracles.
Cheers to the new year.
Follow the flow. Hear the whispers. Honor your heart.
Truth looks HOT on you.