So one of my BIGGEST flaws is that I am a bit…shall we say.. indecisive. Some call it commitment phobic. Some call it infuriating. I call it quirky and adorable.(Because that helps me sleep better.)
Anyway, I have decided to start publishing WEEKLY, in the spirit of fuller bodied expression, but of course, I have not NAMED this weekly series because what if I change my mind? =) This is no joke. I own over 40 domain names "just in case." In fact, on a particularly indecisive day I said to Kim, my trusty biz/web manager, "Why can't I just have a site that's called 'shit that makes me happy .com'?" So I bought that too… just in case.
But Facebook frowns on profanity in ads and I just couldn't picture Oprah trying to introduce me properly while trying to avoid saying "shit" on national television. So I ditched it.
I know. My brain is a busy (scary) place.
So I started to create the first edition of my poor, nameless weekly email meant to share all things inspiring, beautiful and just plain cool when suddenly (and this should come as NO surprise to you by now) I found myself wasting HOURS trying to DECIDE what the heck to include.
And I wasn't having any FUN doing it. So I made a decision. No rules. No regulations. Total randomness.
When I see, hear or do something that moves me and I think it might move you too? I'll send you an email. Deal?
And here's what I've got for you this week.
---
BEST WORDS I READ THIS WEEK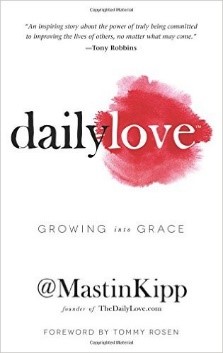 From Mastin Kipp, at TheDailyLove.com
In his book, Mastin writes about how important surrender is. That we must surrender to the will of the higher power. My favorite take away is that it's our job to say the prayer and then to firmly, with unwavering faith choose to believe that everything that happens to us AFTER that is an answer to that prayer. Good or bad. No matter how sucky. BELIEVE that your prayer is being answered.
---
Why do I love this? Because it's funny, but more importantly, look at the hashtag! #RemoveALetterSpoilABook. There are a whole BUNCH of people who spend some amount of time during their day removing one letter from a book title and musing about how that would change the meaning of a book. In essence, these folks have placed high value on PLAY. Kudos to them.
---
LIKE TO TWEET? Here you go. Tweet this!
Stop making sh*t up in your head. Assumptions are the enemy of peace. (Just click to tweet.)

---
And finally, since I have committed (see, I can do it when I want to) to sharing more of my personal life, here are two crazy cute pics of two of my kids.
My middle one, begging for a puppy she will never get.
And my youngest, being his adorable self.
(The oldest boy is 12 now and entirely too cool for photo ops).
That's all for now. And I swear I am NOT going to x out and obsess about whether this was "enough." Because it's going to have to be. I've got other things to over-analyze today. 😉
---
Tell me- what's ONE question you WISH you had an answer to?? Contact me and lay it on me. I may not be able to reply to every single one, but I will do my best to answer as many as I can and if I don't do it by email I will do it by blog post. Thanks for playing.